No.5 Wedding Venue Hawkes Bay
Welcome to No. 5 Café & Larder, the Hawke's Bay wedding venue that revels in the simple grandeur of life. We believe in making our guests feel at home, in taking good care, and making the wedding planning process fun and enjoyable.
Within our wedding venue you can relax guilt-free with an experienced team of staff here to support you. We hope you will feel at home in our space and would love to discuss your plans and dreams for your great day. There are many options for giving your day that special touch of panache which we invite you to contact us to explore.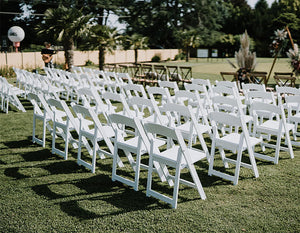 Wedding Ceremony
Settle your guests atop one of our wonderful lawn spaces, with a variety of options for walking down the aisle.
There are photo opportunities aplenty throughout the property, and we welcome you to bring your own sense of style to set everything up just so.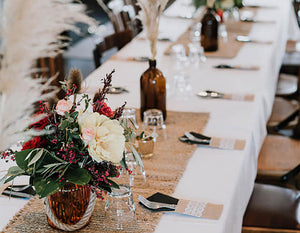 Wedding Reception
Relax and enjoy fantastic Hawke's Bay cuisine in our unique and friendly ambience, overlooking the quiet and picturesque golf course.
Our venue spaces will lend themselves perfectly to your wedding ceremony and reception, including the popular deck area that flows out from the bar, the beautiful back lawn area, and the open plan restaurant.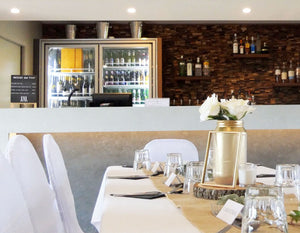 Fully Licensed Bar
All the details are taken care of here at No.5 Café & Larder. As experienced hosts we'll ensure everyone is happily watered with our hand-picked range of delicious wines, beverages, and tap beers.
Whether you'd like to set a bar tab or go pay-as-you go, we are here to accommodate.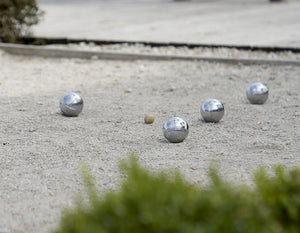 Family Friendly Entertainment
Make your day special with a venue that has a spot of fun for everyone.
Our lawn games provide entertainment while photos are
taken, and at No. 5 Café & Larder you have everything from petanqué and mini golf to lawn games. Enjoy a lark with Giant Jenga, Connect Four, Kubb and Molkky – any of which can be arranged about the lawn and deck.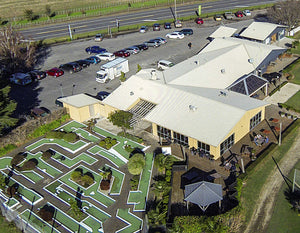 On site Parking
Perfectly located between Napier, Hastings, Taradale and Havelock North, No. 5 Café & Larder offers your wedding guests an easy drive from anywhere in Hawke's Bay.
There's plenty of room for parking on site and our venue is conveniently located at 248 State Highway 51, Mangateretere – just between Hastings and Clive.
Wedding Venue General information
Venue hire fees
Our Bar, Café and Conference Room areas may be hired for weddings. The venue hire fee is $700 .
Deposits
We require a deposit to confirm all bookings. Please note this is a non refundable deposit, and will be equivalent to the cost of the venue hire.
Confirmation of final numbers
Final confirmed numbers are required 48 hours in advance. We will charge based on these final numbers, "no shows" will still be charged for. We can usually cater for a few additional guests and these will be charged for as required. If we are not notified of final confirmed numbers, we will use previously notified guest numbers
for this purpose.
Identification requirements
We are legally required to ask anyone who looks under 25 to present identification when purchasing/consuming alcohol. 
A New Zealand drivers licence, valid passport, Hanz 18+ Card, Hnz 18+ Card or The Kiwi Access Card (all within expiry date) will be accepted as proof of age.
Car parking
Car parking is available right outside our venue. If you need to leave your car overnight we are happy for that to happen, this is at your own responsibility.
Decorating the venue
Yes we encourage it. However due to other potential bookings, if you require time to decorate we ask this is requested at the time of booking. Any small particle decorations such as glitter, confetti or sawdust are not allowed. 
What can we leave overnight?
We may have to set up the venue for events later that day or the following day, so we request that your belongings are packed up and taken with you at the end of your event.
Can we bring our own music, a band or DJ?
We have a speaker system for playing music using Spotify, if you wish to supply your own music please talk with the team. Bands and DJs are also welcome, if you need some recommendations please ask the team.
Can we bring children?
Yes, our Kiwi style café is perfect for the little ones, we even have a great sand pit and mini putt located right beside the café. Talk to our team about options and availability for your wedding.
Liquor license
We are fully licensed. Our Bar and Conference Room areas are licensed until 11.30pm and our Café area is licensed until 10pm. Due to the nature of our license, bringing your own drinks is not allowed.
Bar and beverage options
Welcome drinks
To be served at the entrance, we can offer each guest a welcome beverage on arrival.
Cash bar
Each guest pays for what they require from the bar.
Bar tab
There are a few options here, you can limit the type of drinks available and/or the value on the tab.
Drink vouchers
If you wish to offer your guests a certain number of drinks we can exchange drinks for vouchers.
Subsidised bar
For a part bar tab, part cash bar e.g. bar tab $4 per drink, the guest pays the difference.
Allergens and dietary needs
We can cater to most dietary needs. Our menus will highlight some allergen information however please discuss with the team if you have any special needs. Our kitchen uses wheat/milk/eggs/fish/crustacean/tree nuts/peanuts/soy and while every effort will be taken to avoid cross contamination it is possible traces will be present.
Enquire about your Booking
A terrific wedding venue awaits at No. 5 Café & Larder and we can't wait to show you around.
Enquire Now
Wedding Venue Location
No.5 Cafe & Larder
248 State Highway 51, Mangatertere, Hastings, Hawkes Bay 4180,
New Zealand

We recently had our wedding at this venue. I would highly recommend it. Pricing was so reasonable and we had priced plenty of other venues but this venue was by far best pricing. In no way did pricing affect food quality or the service. The staff and everyone involved in setting up and organising the day went above and beyond what we had ever expected. Nothing was ever to much for them and wow what a wonderful job they done with decorating. Staff were so pleasant and helpful. I would recommend anyone having a function or wedding to consider here as you won't be disappointed. If I was asked to rate venue food and staff out of 5 I would give all top marks.
Emma Loo

We highly recommend No 5 it's a gorgeous location for outdoors and indoor use and something a little different for Hawkes Bay options. We found it to be a smooth process from start to end, Luci is so chill and such a sweetheart to deal with. The team on our day were super lovely and accommodating to our every need we felt pretty special with the overall service provided. We've had only positive feedback from our guests, loved the venue setup, staff service, golf range and buffet food options - simple but well executed. Top notch team, we loved everything about our wedding day. Thanks team No 5, you guys rock!
Rani Gear
We had our wedding and reception at No5 Cafe & Larder in April. It was amazing. Including excellent staff who helped us plan exactly what we wanted. You all really helped make the day perfect. Thank you very much. The ceremony setting was exquisite, in nature with beautiful surroundings. Our wedding photos taken at No5 Cafe & Larder are stunning. The reception area was set up lovely with all the tables delicately matching each other, with our colour theme and decor. There was such a huge variety of menu options. The food was deliciously tasty, scrumptious and plentiful. FIVE STARS from us and we would highly recommend No5 Cafe & Larder for everyone for all occasions.
Mrs West